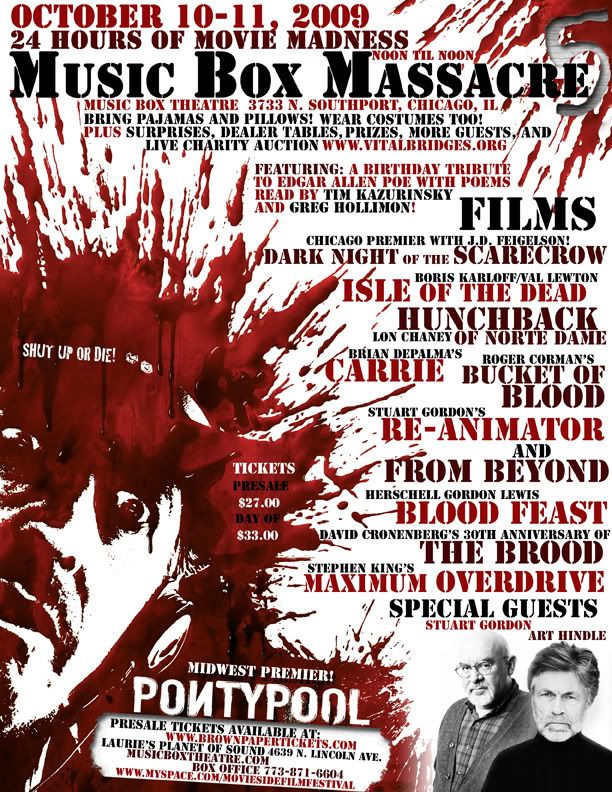 This weekend
yours truly will be at The Music Box theatre (I know, how is that different from any other weekend?)
partaking in the annual Music Box Massacre event. Number five to be exact.
A 24 hour horror movie marathon
.
It kicks off at noon on Saturday and ends at noon on Sunday. It is definitely an endurance test but one that is worth it. Not only is it the rare chance to see some truly great films on the big screen but to also enjoy them with a room full of fans. Even when those moments of sleep try to invade me the audience reaction always raises the energy level of the room and I am good to go. Unfortunately I did miss the first two. I was at III and IV and can say I made it through both. Usually the second to last film is where I start to really get drowsy but I never fell asleep. We'll see what happens this year.
Such a good line up this year as is evident by the above flyer. Plus guests including Stuart Gordon and Art Hindle. Plus I get to see '
Dark Night Of The Scarecrow
' which I have not seen since I was a kid.
October is here and I am gearing up for 24 hours of horror at my favorite theatre. What more can a guy ask for?