CARLITO'S WAY (1993) d: Brian DePalma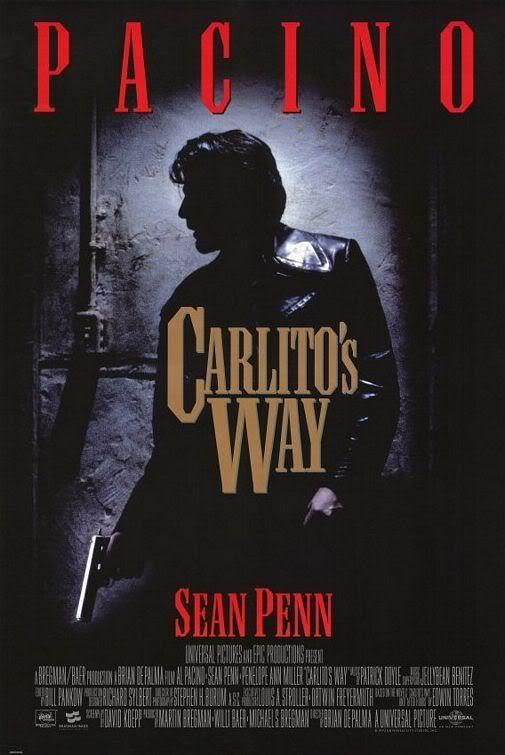 A movie I have loved since the day I saw it, and one that is one of the influences on my current film '
Dark Light
', is Brian DePalma's 'Carlito's Way'. Starring Al Pacino as Carlito Brigante, a former drug smuggler/dealer, who is out of prison and finding things are different than when he went in. His lawyer (Sean Penn) is a cocaine user and gangster wannabe who has troubles of his own having gotten involved with some mobsters. Carlito tries to set his life straight with a dream of escaping to the Carribean and live the simple life with his former love Gail (Penelope Ann Miller) who isn't sure she can trust him after he up and left her before going to jail. But escaping the past and from the surrounding problems proves hard for Carlito as he tries to get away from the bad things except (to borrow a line from 'The Godfather Part III') they pull him back in.
Brian DePalma is at his best here and the film is filled with everything - drama, action, suspense, comedy, and a love story. At the time it was billed as a sort of '
Scarface
' follow up and even rip off with the same director and actor trying to rekindle old magic as was stated at the time but it's not. It's actually an outstanding film with fantastic performances and visually wonderful and tightly told. In some ways, although I do love it, I think it's actually a better film than 'Scarface'. A great mix of so many elements and a film I love to revisit from time to time. A truly great film that if you haven't seen it then do yourself a favor and watch it.