Sorry about the lack of postings lately. Been busy trying to get my film '
Distortion
' 100% completed so I can submit it to a few festivals. That is the main thing taking up a lot of my time right now. A lot of work is needed to get it done and it's only me working on it so it is keeping me very busy.
The remainder of my time has been taken up by an awesome thing I am with. As I mentioned in previous posts I am part of the
90 Day Delinquents
which is the Chicago shadowcast for '
Repo The Genetic Opera
'. The last two shows I have done Luigi Largo which is played by Bill Moseley in the film. This past weekend was a big show for us where we were able to bring in
Terrance Zdunich
who is the co-creator of 'Repo' as well as playing Graverobber in the film. Which meant we got to hang out with him all weekend which was such a blast. To say he is a cool guy is an understatement. The show went so well (though for my own sake I screwed up one bit of choreography which my strive for perfection means it will bother me until the day I die) and we had a huge turn out. The crowd was so amazing! I was surprised how many people came in from out of state. It was such an incredible evening. My main regret is not taking a boat load of pictures. I hope the others did.
With the 'Repo' show done (for now) my main concern is getting the film done. I have a deadline as there are a few festivals I want to submit to next month so I may still be light on posts for a few weeks but will try to do a few when I can. Thanks for reading!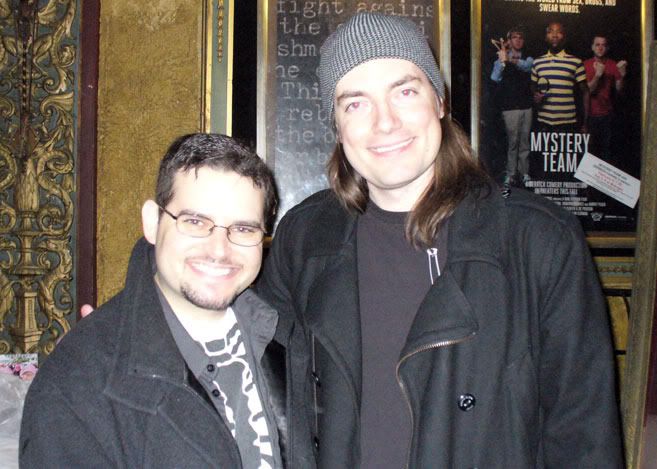 Me with Terrance after our show Saturday night. For the record, while he is taller than I am the lobby of the theatre is at an incline so I look a lot shorter than I am. Needed to point that out. heh