As much as living in Chicago is wearing a little thin on me now, especially as we get 20 below wind chill warnings, there are times when I admit some really awesome things happen here. One of them was last night.
At my favorite theatre,
The Music Box Theatre
, they are showing this week the amazing documentary '
Killing Kasztner
' about a Jew who collaborated with the Nazi's during World War II to help rescue 1,700 Jews and possibly saved thousands more from being executed. A controversial figure as some see him as a hero while others view him as a traitor. A fascinating documentary and well worth checking out.
I must admit I went there for different reasons. The fact that the film was so engrossing and educational was an added bonus that I was more than happy to have experienced. But I was there because for a few showings the director was there for a Q&A. The director is none other than Fran herself,
Gaylen Ross
! One of the leads from one of my all time favorite films '
Dawn of the Dead
'. I went with two friends and we weren't sure if she would be ok with us being fans and wanting, hopefully, an autograph. You never know. She is there to promote a very serious film about a very serious subject matter and here are three fan boys with their posters. Luckily, she could not have been nicer and more accommodating. She was very sweet and signed everything we had (myself having my 'Dawn of the Dead' poster and my 'Creepshow' poster). And she posed for pictures.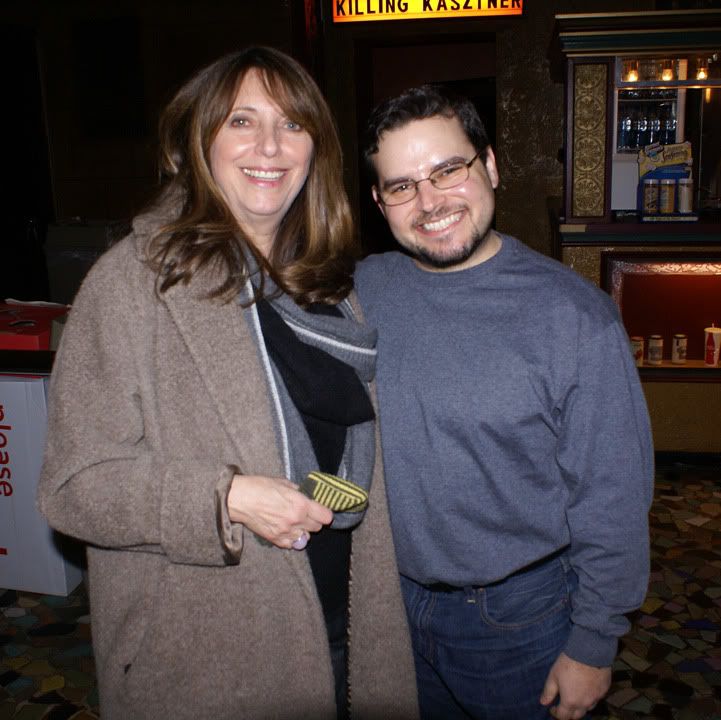 So while I showed up as a fan boy to get an autograph I left being blown over by the story of a man I had not heard about before but one I will not forget. She made a powerful documentary and is a nice person to boot. And dude ...
she was Fran!!!