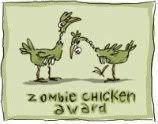 Over at one of my favorite blogs a very happy surprise happened. Andre of
The Horror Digest
awarded a few blogs the "Zombie Chicken Award" and yours truly was one of the recipients. To say I am touched by this is an understatement. Not just the fact that someone thought my vague ramblings were actually worthy of something but that I was put amongst so many other really talented people. I love her blog a lot so to say the feeling is mutual is an understatement. Thank you Andre!!!
UPDATE: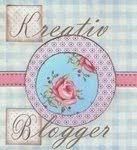 Over at another awesome blog Rhonny Reaper of
Dollar Bin Horror
awarded me with another award. Talk about having a good day! She is so super cool! I really appreciate this so much. The "Kreativ Blogger". Ha!! I love it!
Kind of funny. I have been really down lately for personal reasons and this is such a highlight. Thanks you two. This was such a nice surprise and something that truly lifted my spirits.
UPDATE UPDATE:
Not only is this an honor but moreso because I'm receiving these from blogs which are so incredible. Sarah over at the great
Scare Sarah
blog gave me (along with some really great blogs as well) an award. I like that this one is "One Lovely Blog Award" because while on the surface it may seem odd considering the majority of this blog is horror related but it is about the love of the genre and about the love of film. I could not be happier. Thank you Sarah!!
UPDAT UPDATE UPDATE:
My friend Nicki over at
Hey! Look Behind You!
surprised me with yet one more "One Lovely Blog" award. And you better be following her blog or your life just sucks. Thanks Nicki!!